The Enterprise Control System
Most very early stage companies spend much of their time just trying to survive. That means trying to start and then having to put out fires all the time. They start the fires because they need something to sell, someone to sell it to, and some way to execute on it. So anything they can do to generate heat they will do. But the heat is uneven and often out of control, and they go from one emergency to the next, trying to solve the next problem created by their need to succeed.
But as companies mature, develop a plan, and start to try to execute on it, this firefighting approach can burn them out. Companies make pivots, changing from one thing to another to seek a product market fit and generate sales with different approaches. People get tired of the years it usually takes to get from here to there, and while the excitement is great for a while, getting paid is usually better, and effort levels normalize.
From viability to sustainability
The key question soon becomes one of sustainability rather than viability. Even the must successful startups which ramp up very quickly end up in this situation, and over time, it effects even the largest enterprises. And ultimately they end up in some sort of a normalized enterprise control system.
The sustainable enterprise is one that ultimately operates as a system of its own, dependent on but not driven moment to moment by the individuals that run it. That's all the people involved, not just the boss(es). As a system, it adapts to changing outside conditions and it reacts to urgent matters in a standard way.
Maturity is the model The "Capability Maturity Model", as a concept, is the way we often think about this process of maturing a company or other activity or entity.
None → Initial: Everything ever done is done for the first time, and the first time it is done, it has no maturity before it starts and "initial" maturity when done. Rather, it is done by extraordinary individual efforts and it's always an "emergency". While some people enjoy being the hero, as a system, the super-hero approach often ends up in failure as our heros ultimately fail to meet our expectations, if only by getting sick or hit by a truck or falling asleep after heroing for too many hours in a row. This is typical of the startup company.
Repeatable: As the same or similar things are done again and again, if the process becomes normalized, the same or similar situations produce the same or similar results. If the process is not normalized it remains "initial" and will be more expensive and less effective and predictable. Once a process is repeatable you can start to understand the cost, time, outcome ranges, input requirements, and other parameters that allow you to sell and execute on something predictable. This is typical of the emerging company.
Defined (and documented): When processes are repeated with the same outcome among multiple people, getting the processes to be reliable ultimately involves some level of documentation, training, and review. This often starts with a simple checklist and evolves into detailed procedures, many of which are automated in today's world. In order to scale a repeatable process to multiple people, places, and conditions and keep it repeatable, it must be defined. This is typical of the emerging company.
Managed: As things scale up, small mistakes lead to big problems, and small improvements lead to big benefits. That's because every mistake gets repeated and baked into process to keep it happening again and again, while everything right gets the same treatment. Management has the role of adapting the defined processes over time to reduce or eliminate mistakes while identifying improvements and implementing them. But you cannot manage what you cannot measure, which means that metrics have to be applied in order to manage. This is typical of the established company, which operates and scales (up and down) by managing repeatable processes, including the process of adding new products and services and processes to manage them. Thus as this stage there are some of each of initial, repeatable, defined, and managed components.
Optimizing: As companies grow and scale and improve and develop their sequence of new offerings over time, the measurement process is used to experiment and plan and eternally improve the company overall. There are always combinations of efforts at other maturities in these market leading companies, most of which are public companies or private companies with substantial acquisitions activities always underway.
And the control system?
The enterprise control system, as an example, looks something like the following diagram. At each of different levels of control, internal and external information sources supply information used to make decisions. This particular structure is associated with an operational technology environment surrounding a facility, but with different parameters, it is suited to almost eny enterprise. Also note that there may be multiple instances at lower levels, which tend to expand with the hierarchy of the enterprise, so that companies with many subsidiaries and diversified business operations will tend to have many more lower levels of control feeding and being fed by a common top-level management structure.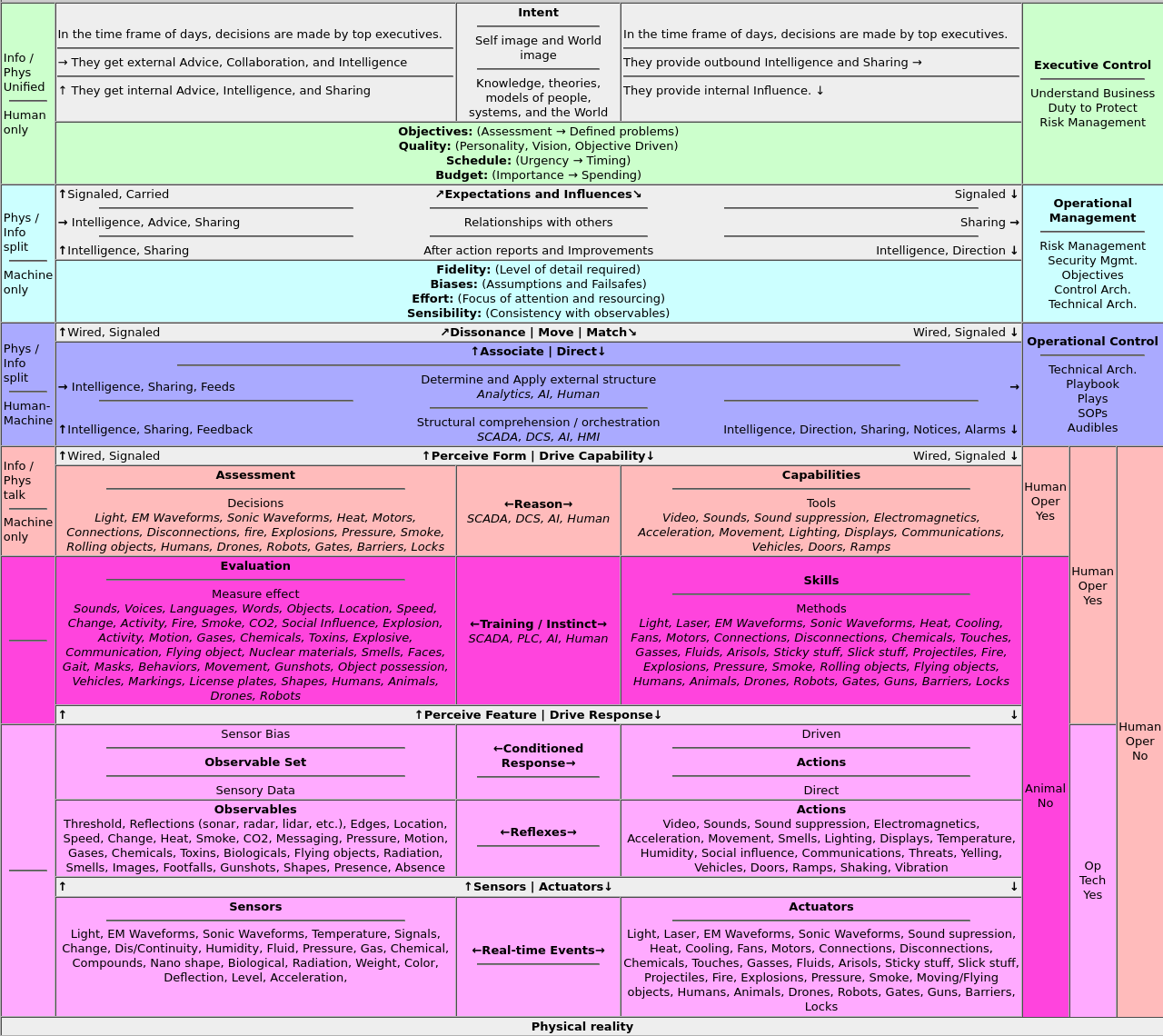 The enterprise control system
Sensors, actuators, communications, and control (decision-making) form the cybernetic system. As such, in order to work well, the decision-making at each level must:
Have the information required to make the relevant decisions: This means that the sensors and communications must produce the relevant information in a usable form in the proper place in time for decisions to be made and actions taken.
Produce the relevant decisions: This means that the relevant decisions must be able to be made by the decision-making process based on the information available when made and in a time frame required to produce actions that meet performance requirements.
Communicate the relevant decisions to relevant parties: The communications must produce the proper information at the proper place at the proper time in the proper form and in a timely fashion taking into account the time constraints on information sensing and delivery, decision-making, and actions to be taken.
Do these in a timely fashion so as to meet relevant performance requirements: The time frames for each aspect must fit together so that decisions are always made in time and of a quality required for the consequences of actions taken.
Verify that actions resulting from decisions are properly carried out and respond to changing conditions: In order for such a system to work, feedback from actions taken at all levels must be available in time for follow-on changes and further decisions-making. Thus the overarching and all internal control system loop times must be suitable to affect adequate control for stability criteria of the overall system.
Adapt over time to meet changing needs: In order for such a system to continue to work in the changing internal and external environment, strategic decisions must be made to adapt the system itself.
Calculations based on time frames determined by the overall system that forms the context of the cybernetic control system are then made to determine whether which approaches can work, and governance acts to control the approach to this system and adapt it over time.
How do I actually do this?
The example above is only an example, and not fully filled out, or universal in its applicability. In practice, such systems are developed and evolved over time. As such they require more and more sophistication as companies grow and mature. And of course, to have a mature company, you need mature people who know how to build and operate these types of systems. These sorts of developments are typically carried out by advisory boards for early stage companies until they reach the established level, after which consulting groups sometimes take over this role.
A call to action
If you want to start to understand how to control your company, you should start to engage with experts. And of course, we write about this in various aspects as part of our articles, such as this one.
We offer FREE resources! ...
If you aren't interested, please enjoy our content and sign up for our mailing list if you might be interested "some day".
In case you missed it - if you want to engage with us on a more detailed level, the process starts with your presentation of your company to us.
In summary
The enterprise control system is as complex as the enterprise, or at least proportional to it. As you mature your company, you should, and likely are, building an enterprise control system. Whether you know and plan it or not... We think it's better to plan it...
Copyright(c) Fred Cohen, 2020 - All Rights Reserved